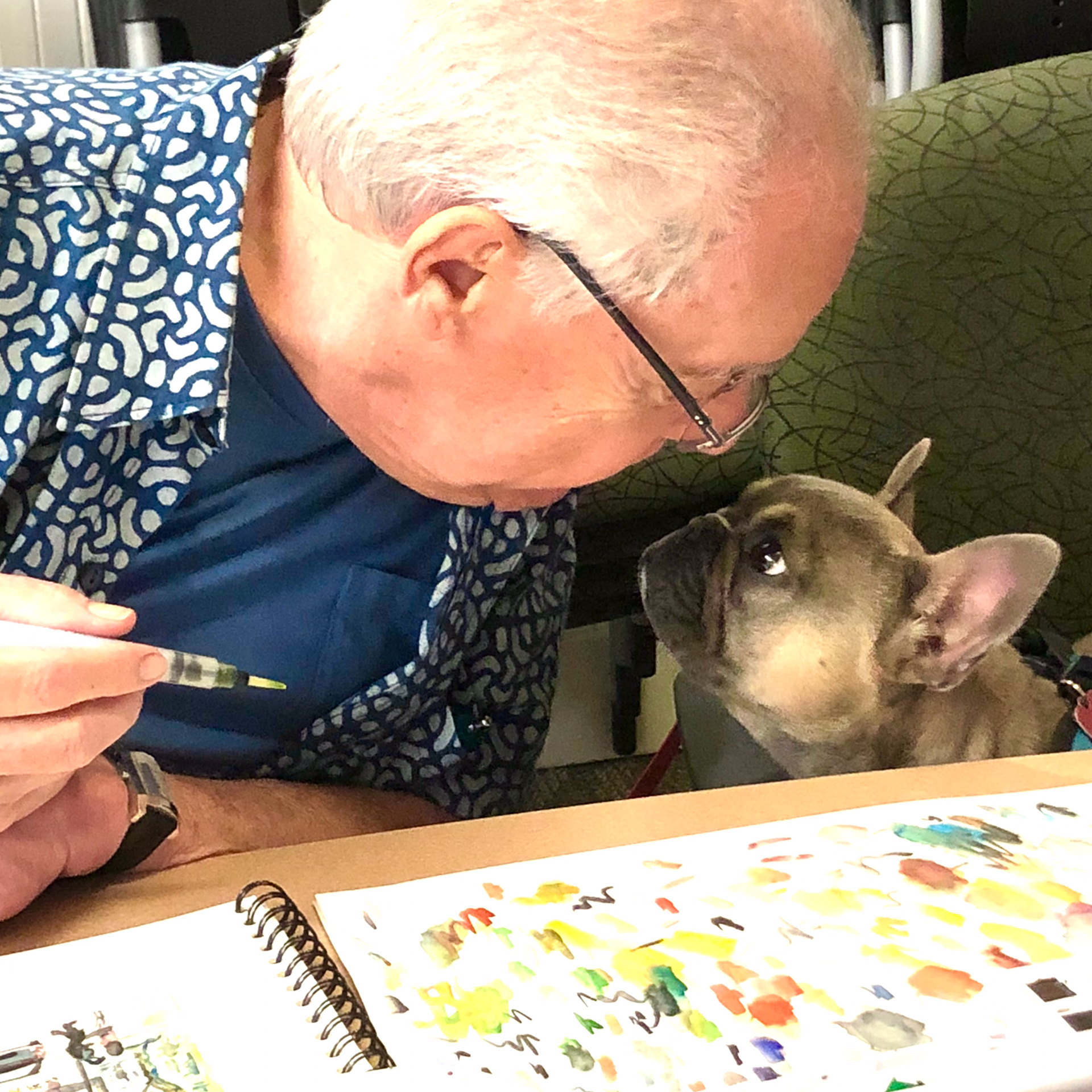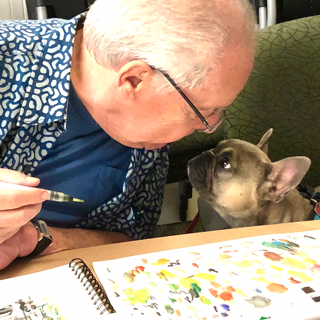 "Early in my career, a lot of people told me that in order to be successful as an artist, I had to suffer. I moved to San Francisco and tried to suffer but failed miserably. I've always looked on the lighter side in life and with my art." ~ Guy Buffet
Guy Buffet was born in Paris in 1943. His father took young Guy for walks in Montparnasse to show him famous landmarks such as "La Coupole", (one of the artist's favorite eateries even today), where famous artists such as Amedeo Modigliani, Pablo Picasso, Marc Chagall, George Braque and Tsuguhara Foujita would spend most of their days and evenings. Those artists became heroes and models for Guy Buffet's future life. One summer, he was invited to spend some time in the country with an artist friend of the family, and he fell in love with the smells and the feelings of an artist's studio. By the end of the visit, he had completed a large 2' x 3' painting, which surprised everyone for it's composition and wonderful colors and brush strokes. In fact, it was so well-received that the artist friend wouldn't let Guy Buffet use his studio ever again! Guy decided at that moment to become an artist.
At 14, he moved to the south of France with his mother, and enlisted in the Beaux Arts School of Toulon to study art full time. Most teachers were professional artists of the School of Provence, with pallettes of bright colors and canvasses that were pure joy and love of life, or as the French say, "joie de vivre"! This influence is clearly recognizable in Guy's work to this day.
Guy Buffet's famous images depict restaurants, people, landscapes, cities and of course, Hawaii (one of his favorite locations). Buffet's whimsical renditions and fine artwork have been admired and collected worldwide for many decades. Although humoristic at times, Guy Buffet's depictions are never denied of candor and tenderness. After 50 years painting and traveling throughout world, he is often recognized (especially in restaurants). Once the staff realizes he is there, many will offer to pose on the spot!
Those who know Guy Buffet well and have dubbed him, "The Wandering Artist", which suits him very well! "I have been fortunate enough to travel the world and I have many interests. I read and research continuously to learn and stay fresh with ideas. The Italian countryside, Amsterdam, China, Tahiti, India and other exotic locations have found their way onto my canvasses, and I have a deep love of dogs, so you will see lots of those, too. Over the years, I have been commissioned by numerous corporations, including Aloha Airlines, Grand Marnier, Absolut Vodka, Inter-Continental Beachcomber-Tahiti and Westin and Ritz-Carlton Hotels, Champagne Perrier-Jouet, and Williams-Sonoma. I have had many products made from my designs, and for all of this I am humbled. What a wonderful life this is! I meet many wonderful people along the way and I hope to make your acquaintance and welcome you into my world!" - Guy Buffet
Guy Buffet's whimsical rendition of sommeliers, chefs and waiters and other images grace such every day items as dinner plates, napkins, tablecloths, men's dress shirts, ties and women's fashion. Guy's famous images depict restaurants, people and animals from Hawaii to France. Guy Buffet has been commissioned by corporations worldwide including: Grand Marnier, Absolut Vodka, Ventura Foods, Westin and Ritz Carlton Hotels. Guy is the signature artist for Champagne Perrier Jouet.
Read More