Caroline Zimmermann's Tuscany Studio
3/25/2020
Buon Giorno from my Tuscan Studio...
John, Murphy and I are working from home here in our home in Italy, and contentedly keeping very busy. We are normally quite isolated in our river valley and even more so now with the situation in Italy and the rest of the world. But Spring has arrived and all around us Nature is emerging from the darkness of winter. With sunny days and mild temperatures we are surrounded by an uplifting feeling of rebirth and growth. I've been painting in the studio and continuing with my theme of Flowers from my Garden.
I am very excited to present my latest in a series of Peonies: this a 30"x40" oil painting on canvas I have titled "Rainsong Peonies." In this piece I have created a close up view of several peony blossoms after a morning rain. These larger floral scapes allow me to immerse myself into deep observations of each flower, studying the structure and detail in the painting of each bloom. Fascinating shapes emerge, created with light and shadow. For me, the "icing on the cake" in completing these floral paintings are the water droplets, shiny jewels of light as the slowly reveal themselves in the composition. 
This season is such a joy for us as gardeners and myself as a painter, as just steps outside of my studio the fruits of our labors reveal new inspirations with each passing day. My warmest Spring regards to you all!
With Aloha and Amore, Caroline Zimmermann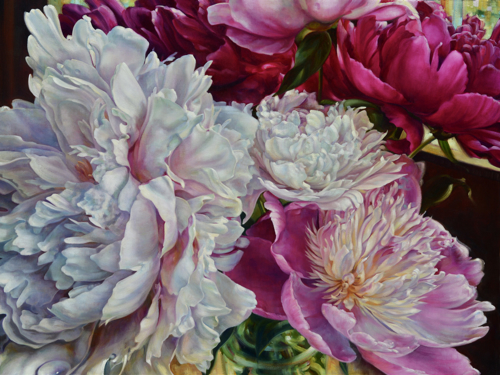 Rainsong Peonies in Oil 30 x 40
To inquire about Caroline's work:
Email Us
.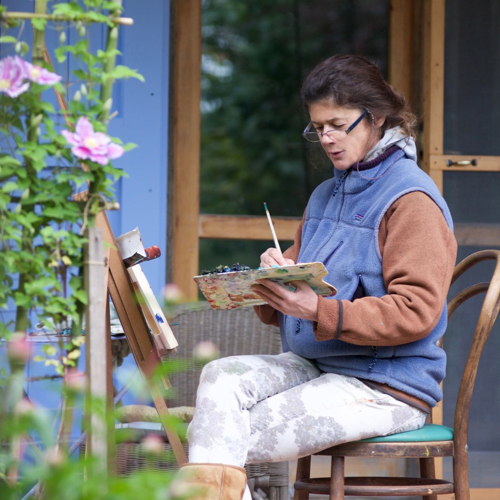 Out here, you don't have to travel far to get inspired.