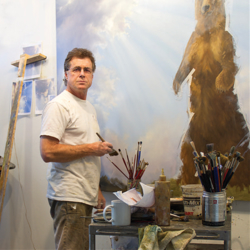 The Animal Narrative
British born, San Francisco and London-based artist Robert Bissell uses animal narratives in his paintings to explore what it means to be part of the natural world. Bissell's experiences growing up deep in the countryside of southern England shaped his views from a young age on being inextricably connected to the animals and nature that surrounded him.
At first glance, Bissell's narrative painting style may seem reminiscent of his childhood, but Bissell's paintings are not mere children's tales. Instead they explore zoomorphism—portraying humans as non-humans, an approach he uses to invite us as viewers to rediscover the magic in nature, and through it our own nature. His approach draws us as viewers further into his paintings and immerses us in the scenes, almost as if we are in the paintings alongside the animals. Bissell says that his stated intent is to "…show a world that is a mirror for self-definition. I am inviting the viewer to step inside a venerated space". Bissell hopes that this experience may ultimately remind us that we humans are part of nature too and that nature includes us.
Bissell has a Bachelor's degree in photography from the Manchester College of Art and a Master's degree from the Royal College of Art in London. Bissell's work has been featured in numerous solo and selected group exhibitions in galleries and museums throughout the United States and Europe. His paintings are also part of many private and corporate collections worldwide.
Ordinary Beauty
Bissell's landscape paintings often illustrate the dichotomy between the natural environment and the creations of humans. However there is no judgment here: we are invited into a meditation and empathy(1) for the landscape that is presented to us. The scenes we are shown are familiar to us: views we might see on our way to work or on a trip to the local mall. These paintings ask us to pause and observe what is often seen as the mundane and the ordinary. Bissell then shows us that there is a magic and life to those things we routinely consider deadpan. Everyday details we might routinely pass by are highlighted by his compositional approach and brushwork. And while these works may appear as photographic realism they transcend the limitations of the photographic form. The texture and palpable realism of paint on canvas allow us to discern details differently: how a concrete road ramp has been constructed, how a wid rambling bush grows over an old fence or how the light falls over a modern home.
In these paintings, we are also reminded that sometimes beauty goes amiss. We see the flaws and imperfections of our humanness, reflected in the unnaturalness of our constructions but we also see nature's capricious ways, reluctantly stepping aside or demonstrating a desire to integrate with our human enterprise. Because these are the landscapes we have known all our lives they are part of our history and they resonate with us deeply. We not only see into our own narratives but feel empathy for the extraordinary world at our front door.
(1) A word on empathy and the art of "inseeing":
"Despite its linguistic roots in ancient Greek, the original concept of empathy is of recent intellectual heritage and comes from work by the German philosopher, Theodor Lipps. The concept began by describing the role it plays in the appreciation of art objects. Lipps originated the then-radical hypothesis that the power of the impact of empathy didn't reside in the work of art itself but was, rather, synthesized by the viewer in the act of viewing or "inseeing". The moment a viewer recognizes a painting as beautiful, it transforms from an object into a work of art. The act of looking, then, becomes a creative process, and the viewer becomes the artist" —Robert Bissell